Computer Repair in Richmond VA -

We've been fixing  PCs, Laptops, Desktops, Macs (Apple) since 2002.                             

Contact Us
Covid-19 response - We are keeping our doors open during the pandemic, has more customers rely on technology for work and entertainment.
No-touch repair service -  When requested,  we'll pick up your device and take it back to our shop. Once ready we'll bring it right back to you. All devices are disinfected prior and after our technicians work on them.
Your Local PC and Mac Experts
Mobile ITechs has been helping our community overcome technical issues for almost 20 years. We diagnose, fix and upgrade all PC and Apple computers. Whether you have an IMAC, MacBook Pro, MacBook Air, laptops, desktops or notebooks, our experts have the knowledge and technical expertise to overcome any challenges that you may have.  Our sole objective is to get your PC or Mac fixed with a minimal amount of inconvenience or downtime. We service the greater Richmond VA, including Mechanicsville VA, Henrico VA, Midlothian VA, Glen Allen VA, Ashland VA and More.
Computer repair services available in your area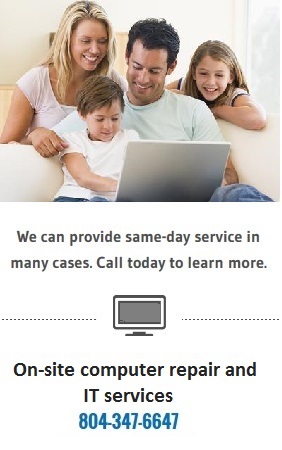 Your Satisfaction is 100% Guaranteed.
Get computer help the same day in many cases
Complimentary pick up and drop off
No need to unplug anything
Certified technician come directly to your door
Data backup and restore (when possible)
24/7 emergency repair and support
We service all major brands and models
Fast Turn around
Remote support available
30 day parts and labor warranty

Are you ready to get your computer fixed?

Call or text 804-347-6647 to schedule your repair TODAY!

Call Now or Request Service Online
Mac OS 11 Big Sur compatibility
Which Macs and MacBook Pro supports it?
Big Sur is the latest and the most advanced desktop operating system available for your MacBooks and iMacs. It is the biggest and the most beautiful design upgrade since the introduction of the Mac OSx in the mid 80's. This redesign is entirely new but yet instantly familiar. The new requirement for the OS11 has jumped by a year on most models, compared to the Mojave and Catalina upgrade which had the same hardware requirement. The MacBook Pro and MacBook Air models is now jumping from the 2012 to 2013 models.
This new upgrade has been engineered to take full advantage of the new Processor Apple unveiled this fall, the M1 chip. The 2020 MacBook Air, MacBook Pro and Mac Mini have taken full advantage of this boost in performance from this new processor.
Which Macs can run the latest Big Sur upgrade?
iMac (from 2014)
iMac Pro (from 2017)
MacBook (from 2015)
MacBook Air (from 2013)
MacBook Pro (from late 2013)
Mac mini (from 2014)
Mac Pro (from 2013)
What Mac do I have?
To find out what year your Mac has been released or what OS X you are running on your system, go to the Apple on the upper left corner of your home screen and click on "About this Mac". If you are running OSX 10.7 through 10.10 you will have to click "More info".
You can find more information on all Big Sur updates and feature by clicking here>>
Latest Apple MacBook Air (2020) is here
The MacBook air is usually the entry level product, where most people get their first impression of the Apple product line. Apple Laptops have a strong reputation for quality and a very good candidate if you plan on keeping it for five years or more.
As we currently look at what Apple is offering on their website, the base line model is about $100.00 cheaper than its predecessor. It start at $999.00 with the Apple M1 Chip with 8-Core CPU and 256GB SSD storage, while the second option at $1,299.00 has also the M1 Chip with 8-Core CPU with 512GB SSD storage capacity.
From the outside, the only major change in the design is the new Magic Keyboard that Apple started using with the 16-inch MacBook Pro in 2019. While the keyboard steals the spotlight, let's not forget the large trackpad that Apple is famous for with a touch click that is virtually silent and a tracking that is second to none.
The MacBook Air comes in Gold, Silver and Space Grey (My favorite color).
The MacBook Air has never been a powerful laptop by all stretch of the imagination. It's designed more for portability and basic functionality, Perfect for school work and Emails. In this latest version, battery life has also been improved by more than 6 hours giving you a total of 18 hours of productivity without recharging.
The MacBook Air is a good choice for Apple Fans on a budget. It's a great entry level Laptop especially after a price reduction, Great keyboard and double the hard drive storage (Starting at 256GB).
For more information on this product check out the MacBook Air product page.
New iMac 27-inch is More Powerful than Ever
The iMac 27-inch has been the product name for Apple's high end All-in-one desktop since the transition to the Intel processor began in early 2006.
The latest 27-inch iMac is however by far the most powerful All-in-one desktop Apple has ever made. With an immersive 5K True Tone technology Retina display with a Nano texture glass, Intel i9 10th generation with up to 10-core processor 5GHz Turbo boost, 128GB 2666MHz DDR6 memory, and up to 8TB lightning fast Solid State storage, it is the ultimate All-in-one desktop for the ultimate user.
27-inch True Tone retina display
the largest Retina display on an All-in one iMac using for the first time "True Tone technology" for a more natural viewing experience with its one billion colors and 500 nits of brightness. Photo and graphics leaps of the screen.
Intel Core i9 processor
with up to 10 cores of processing power it delivers 40% more performance of a previous generation 8-core iMac.
Up to 128GB of DDR6 266MHz memory
for smooth performance and efficient multitasking
AMD Radeon Pro 5000 series graphic
Two times faster than previous generation and with the optional 16GB of GDDR6 VRAM for graphics- intensive workflow, you'll get up to 6x faster performance than with 8GB.
Up to 8TB Solid State hard drive storage
Super-fast storage and massive file load.
This 27-inch iMac is the desktop that does it all – better and faster than even, it is definitely a game changer. See the product page for more details.
MacOS Big Sur is coming this fall
Big Sur is the latest version and the most advanced desktop operating system. It is available this fall for your MacBook Pro, MacBook Air, iMac and Mac Mini. It is the biggest design upgrade since the introduction of the Mac OSx. This redesign offers a more spacious feel and includes a number of new navigation features making your apps easier to use and navigate. Big Sur include the biggest facelift Safari has ever seen since its original launch in 2003. Tabs have been entirely redesigned to make navigating with safari even faster and more powerful. You can also expect your most frequently visited webpage to load 50 percent faster than chrome on average, making the fastest web browser even faster. Safari also brings some new features while browsing the web. Now, like Google Chrome users, you can customize the new start page with a background image and translate entire webpage from seven languages with just one click.
Redesigned Messages
Messages in this new OSx have also been redesign to include new tools to manage favorite conversations and share expressive messages. For faster access, you can now pin your important messages to the top of your message list, and to help speed up and organize search results users can now organize them by Links, Photos and matching items. User can also customize their Memoji on the Mac and express themselves with Memoji stickers to match their mood and personality.
You can find more information on all upcoming Big Sur updates and feature by clicking here>>>
Apple unveils new 13-inch MacBook Pro (2020)
On May 4, 2020 Apple unveiled a new 13-inch MacBook Pro with some significant updates. This new release is noteworthy for a variety of reason, the most compelling one is the final transition from the old butterfly keyboard to the much improved Magic keyboard. This magic keyboard features and inverted-T shape key design, making for a smoother key travel over the old X shape butterfly.
Under the hood, this MacBook Pro comes also with a number of performance improvement that includes twice the hard drive storage across all configurations and overall faster graphics and processor. This new MacBook Pro can now be configured with a blazing fast 10th - generation quad-core processor offering much improvement over the previous 8th-generation processor and a 32GB of RAM option, formerly available only on the 14-inch and eventually 16-inch MacBook Pro.
Whether you use it for word processing or processor intensive Graphic design, this new 13-inch MacBook Pro delivers powerful performance for it size.
Super light with stunning display
This 13-inch MacBook Pro is highly portable with a weigh of only 3 pounds, ideal for classroom environment and on the road application. The 13 inch Retina display delivers stunning colors and brightness and offers a more natural viewing experience for graphics and everyday task like emails and documents.
Over all the 13 inch MacBook Pro is a strong and safe bet in term of performance and reliability. Check out the Product page for more information.
Why call a geek when you can get a professional for a lot less.....
Call or Text (804) 347-6647
Same Day Service
_____________________________________________
COMPLETE COMPUTER SERVICES | ALL BRANDS | HOME OR OFFICE
Maintenance, Installation & Repair | Networking
Virus Removal | Data Recovery | Storage Solutions