Computer Repair in Richmond VA -

We fix Laptop, Desktop, Mac /Apple & PC -

Same Day Service for your Home or Office

                    
Get your computer fixed in Richmond, VA from the comfort of your own home   

Contact Us
We provide on-site PC or Mac computer repair in the Richmond, VA for your home or business. We can fix and upgrade all Apple and PC models such as IMAC, MacBook Pro, MacBook Air, laptops, desktops, notebooks on all Windows and Mac Os operating platforms.
Our technicians are fully certified and can diagnose and repair a variety of computer problems ranging from slow start-up, virus infection, hard drive failure or networking issues. We have the resources and technical expertise to overcome any IT challenges that you may have.
Our objective is to get your PC or Mac fixed with a minimal amount of inconvenience or downtime.
Computer repair services available in Richmond, VA
Ask yourself, why unplug your computer? and drag it into the shop to wait for days or weeks to get it back? Instead you could have a certified technician fix your Mac (Apple) or PC right where it sits.
Get More Info      Need a tech? Call or Text 804-347-6647

Whether you have an immediate technical issue or are looking for a long-term IT partner, we are here for you. Call us today and speak with a technician to learn more about our services.
Get More Info      Need a tech? Call or Text 804-347-6647
Don't let your PC, Laptop or Desktop get the better of you.  We fix all makes and models, whether you need a Laptop repair, Desktop repair or Server repair, our certified technicians have the resources and technical expertise to overcome any IT challenges that you may have.
Get More Info      Need a tech? Call or Text 804-347-6647
We fix all Apple products, iMacs , Mac Mini , MacBook Pro and MacBook Air. Our Mac repair technicians are always near you and ready to assist in a moments notice. Don't let your slow Mac prevent you from getting work done. Give us a call, we can keep your Mac working smoothly again.
Get More Info      Need a tech? Call or Text 804-347-6647
Like any investment, your computer needs constant care. If it has been more than six months since the last thorough cleaning, a preventative maintenance visit should be arranged. Sometime a little TLC is all your computer needs to work smoothly again.
Get More Info      Need a tech? Call or Text 804-347-6647
We have the means and the tools to get rid of those pesky creator for you. We can completely sanitize hard drives of any trace of viruses and ensure the integrity and safety of your data. Call our trained professionals to check your system and assist you to get your computer back in shape.
Get More Info      Need a tech? Call or Text 804-347-6647
Networks are the backbone of your IT infrastructure in your home or office. If you are fighting printers that won't respond, or computers that won't connect to the internet, give us a call. Our network engineers are ready to help you get things running smoothly, and efficiently again.
Get More Info      Need a tech? Call or Text 804-347-6647
How would you cope if your computer stoped working? Are you worried that your family pictures and personal files are lost for ever. Our technicians can diagnose a failing hard drive before it is too late or help you recover your data if your PC is not powering up anymore.
Get More Info      Need a tech? Call or Text 804-347-6647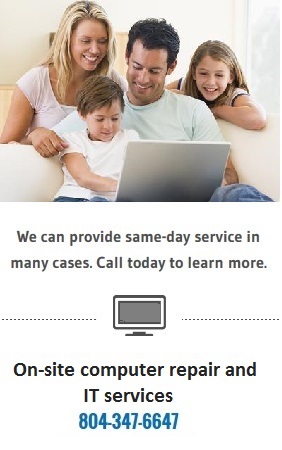 Your Satisfaction is 100% Guaranteed.
Get computer help the same day in many cases
Complimentary pick up and drop off
No need to unplug anything
Certified technician come directly to your door
Data backup and restore (when possible)
24/7 emergency repair and support
We service all major brands and models
Fast Turn around
Remote support available
30 day parts and labor warranty

Are you ready to get your computer fixed?

Call or text 804-347-6647 to schedule your repair TODAY!

Call Now or Request Service Online
The New Apple 2020 MacBook Air
The MacBook Air is Apple's most popular Mac and one of the best and most popular Notebook ever made. With faster performance, twice the storage, new magic Keyboard and best of all the starting price for this new MacBook Air is under $1000.00. This updated MacBook Air is the world's most loved notebook in its class. The new 2020 MacBook Air has now been updated with the new Scissor-switch keyboard that Apple introduced last year in the 16 inch MacBook Pro and upgraded with the latest 10th generation Intel Processor. This new MacBook Air is now the most affordable and most portable MacBook Apple ever made, it is the best laptop for most people.
Twice the performance
This latest edition features the 10th generation Intel i7 quad-Core processors with turbo boost speeds up to 3.8GHz, twice the performance when compared to the previous generation. Furthermore this is the first time Apple offers a Quad core processor in its MacBook Air notebooks series.
Twice the storage capacity on the entry-level model
This new MacBook Air start with a 256GB of storage capacity, verses the 128GB offered in the previous generation. This increase in storage is ideal for storing even more movies, photos and files and if this is not enough storage space Apple offers up to 2TB Solid State Drive which is double the previous maximum storage.
Even if your circumstances only allows you to go with the $999.00 configuration you will find that this MacBook Air is a great machine for basic function like spreadsheets, word Processing, internet surfing, and even light photo editing.
For more information on the 2020 MacBook Air Click Here
Fix loud fan noise on your Mac or PC
All computers have fans running internally including your iMac, MacBook Pro or MacBook Air. They have heat sensors that respond when they detect temperature changes inside your system, switching on fans to bring much needed cool air to your CPU or any other critical component. They are a lot of processor intensive task that could increase the internal temperature, and trigger a loud fan noise inside your PC, iMac or MacBook Pro such as video editing, graphic-heavy games, hard drive indexing using Spotlight. This rushing-air sound is a normal part of the cooling process and it could appears especially loud if you are in a quiet environment like a library.
If you hear the fans in your iMac or Mac Pro running at full speed and you aren't performing any intensive tasks, make sure the vents aren't blocked. A blocked vent could cause overheating and eventually a thermal shutdown that could damage your processor if not addressed.
The location of the vents defers on every model.
iMac and iMac Pro have usually a vent located along the bottom edge and on the back.
MacBook, MacBook Pro and MacBook Air have vents along the side and on the back.
If the fans in your Mac run fast even when it isn't experiencing heavy usage and is properly ventilated, you might need to contact a technician to run a diagnostic on your device to resolve the issue.
Give your Mac devices a speed boost
Are you frustrated with your Mac computer because of a slow hard drive?
Owners of older MacBook Pro, MacBook Air and iMacs may look at the newer MacBook and Mac Pro with a tinge of envy, especially if their Macs uses the older mechanical hard drive. Replacing that old drive with a Solid State Drive makes for a relatively sensible upgrade, offering up to 10x faster access to applications and files.
Upgrading your hard drive can greatly improve the speed of your computer in many ways. Perhaps the most drastic change users notice is the improved time it takes the computer to reach the login screen. Booting the system can be up to 65% faster when using an SSD as compared to using the older standard hard drives. Surfing the web can also be faster by up to 10%.
Upgrading to an SSD could give your Mac or MacBook a new lease of life, but at the same time it seems like a daunting task. The speed boost an SSD provides over a mechanical hard drive is certainly worth the effort, with data transfers taking place at multiple time the speed of a mechanical spinning drive.
Bring new life to your Mac computer by investing in an SSD upgrade!
If you are not sure if upgrading your hard drive to a Solid State Drive is right for you? Call our technicians today to find out more. Our experienced techs are available to answer all of your hard drive and SSD related questions today.
Why call a geek when you can get a professional for a lot less.....
Call or Text (804) 347-6647
Same Day Service
_____________________________________________
COMPLETE COMPUTER SERVICES | ALL BRANDS | HOME OR OFFICE
Maintenance, Installation & Repair | Networking
Virus Removal | Data Recovery | Storage Solutions