Computer Repair in Petersburg, VA -
We fix Mac /Apple, PC, Laptops & Desktop -
Same Day Service for your Home or Office
Covid-19 response - We are keeping our doors open during the pandemic has more customers rely on technology for work and entertainment.
No-touch repair service available – When requested, we'll pick up your device and take it back to our shop. Once ready we'll bring it right back to you. All devices are disinfected prior and after our technicians work on them.
Your Local PC and Mac Experts
We provide on-site PC or Mac computer repair in Petersburg, VA for your home or business. We can fix and upgrade all brands and models such as Apple, IMAC, MacBook Pro, MacBook Air, laptops, desktops, notebooks and all Windows operating platforms.
Our technicians can diagnose and repair a variety of computer issues ranging from slow start-up, virus infection or hard drive failure. We have the resources and technical expertise to overcome any IT challenges that you may have.
Our objective is to get your PC or Mac fixed with a minimal amount of inconvenience or downtime.
PC + Mac repair services available in Petersburg, VA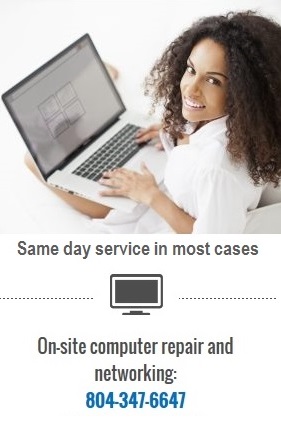 On-demand PC + Apple computer repair in Petersburg VA for your home or business with just one call
For almost 20 years Mobile ITechs specializes in providing affordable on-site computer repair and IT services
in Petersburg VA for your home or business. Our Certified technician can have your MAC or Windows PC repaired quickly and efficiently. We offer a variety of affordable computer repair services to meet your needs.
Save Time & Money
Our free phone consultation will save you time and money from unplugging and carrying your computer to an
expensive computer shop just for them to tell you your computer doesn't work. Our technicians are certified
specialist with over 20 years experience solving the most complex and frustrating problems that you have with your computer or network.
One Call does it all!
One call is all it takes to solve those frustrating problems and begin enjoying your computer again. If you live
in the Petersburg area and are in need of computer service please contact us today!
Your Satisfaction is 100% Guaranteed
• Get computer help the same day in many cases
• Fast Turn around
• Certified PC + MAC technician come directly to your door
• Data backup and restore (when possible)
• We service all major brands and models
• Multi-computer repair discounts
• Remote support available
• 30 day parts and labor warranty
New redesigned Mac Pro is Here
Since 2013, Apple has let the old Mac Pro design completely stagnant. It was small and beautiful and run whisper quiet (nothing short a piece of art that demanded placement on your desk) but the tight integration made it almost impossible to upgrade.
According to Apple the new Mac Pro has been redesigned with easy access to components and a stainless steel / aluminum case that includes handles for modularity. This new design also include optional wheels ($400.00) that can be added to make it easy to transport from one location to the other.
With a price tag starting around $6.000 (display sold separately), this machine is unquestionably designed for the professionals who demand the absolute best performance money can buy. The Apple XDR display is available for purchase separately with a Price tag around $5.000 (base not included). With full upgrade and top of the line specification the high end Mac Pro could cost you upwards of $40.000.
Mac Pro Specs
Intel Xeon processor with up to 28 cores
12 DIMM slots for up to 1.5 terabytes of 2933MHz ECC memory
8 X PCI expansion slots, four double-wide slots, three single side slots
2 X TB3 ports, audio jack, two USB A ports, two 10Gb Ethernet ports
300 watts of power, runs fully unconstrained
Apple also built a brand new card called Afterburner for video editing, 6 billion pixels per second. 3 streams of 8K, 12 streams of 4K. The new Mac Pro is being manufactured in the same facility where the old Mac Pro was manufactured in Austin Texas.
Is your Mac supported with the latest macOS Catalina?
Catalina macOS (10.15) is the next version of Mac operating system available for download for free this October.
The good news is that if you are already running macOS Mojave on your machine you are probably going to be able to install Catalina without any problems. Unfortunately if your system came out prior to 2012, you are out of luck and are not going to be able to upgrade it.
To find out how old your mac is, go to the "Apple" menu on the upper left of your desktop and click on "About this mac". All the information needed to determine if your mac is compatible should be displayed under the "Overview" Tab.
The system requirement for Catalina are very similar to last year macOS Mojave.
Catalina macOS 10.15 can run on the following systems.
MacBook (2015 or newer)
MacBook Air (2012 or newer)
MacBook Pro (2012 or newer)
Mac mini (2012 or newer)
IMac (2012 or newer)
IMac Pro (from 2017)
Mac Pro (2013 or newer)
If you compare the system requirement for Mojave or Catalina to its 2017 predecessor, you will find that macOS High Sierra, was less processor intensive and could run on older systems going back to 2009 macOS 10.5 Leopard.
It is understandable that Apple cannot support its hardware forever. The newest feature and app need better, more powerful processor and Memory and the older a machine is, the less powerful it tends to be.
919