Computer Repair  Richmond, VA -
We've been fixing Macs (Apple), PCs, Laptops & Desktops since 2002                                                

Contact Us
Covid-19 response - We are keeping our doors open during the pandemic has more customers rely on technology for work and entertainment.
No-touch repair service – When requested, we'll pick up your device and take it back to our shop. Once ready we'll bring it right back to you. All devices are disinfected prior and after our technicians work on them.
Your Local PC and Mac (Apple) Expert
Mobile ITechs has been helping our community overcome technical issues for almost 20 years. We can diagnose, fix and upgrade all PC and Apple computers. Whether you have an IMAC, MacBook Pro, MacBook Air, laptops, desktops or notebooks, our experts have the knowledge and technical expertise to overcome any challenges that you may have.  Our sole objective is to get your PC or Mac fixed with a minimal amount of inconvenience or downtime. We service the greater Richmond VA, including Mechanicsville VA, Henrico VA, Midlothian VA, Glen Allen VA, Ashland VA and More.
Computer Repair Services Available in your area 

Ask yourself, why unplug your computer? and drag it into the shop to wait for days or weeks to get it back? Instead you could have a
certified technician fix your Mac (Apple) or PC right where it sits.
Get More Info      Need a tech? Call or Text 804-347-6647
Whether you have an immediate technical issue or are looking for a long-term IT partner, we are here for you. Call us today and speak with a technician to learn more about our services.
Get More Info      Need a tech? Call or Text 804-347-6647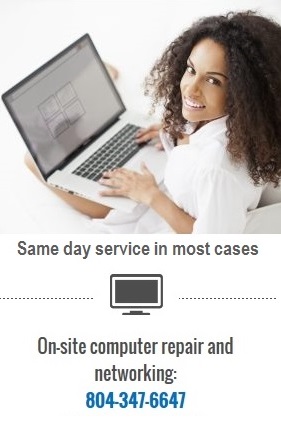 On-demand PC + Mac / Apple computer repair and I.T Support for home or business around Richmond, VA
One call is all it takes
Our computer repair technicians are always near you and ready to assist in a moments notice. We provide same day service in most cases, so you never have to wait more then a few hours to get your computer running again. We'll come to your home or place of business and fix the problem right then and there for you. No need to move or unplug anything. We deliver fast and convenient service without sacrificing quality.
Your Satisfaction is 100% Guaranteed
• Get computer help the same day in many cases
• No need to unplug anything
• Certified PC + MAC technician come directly to your door
• Data backup and restore (when possible)
• Fast Turn around
• We service all major brands and models
• Multi-computer repair discounts
• Remote support available
• 30 day parts and labor warranty
Mac OS 11 Big Sur compatibility
Which Macs and MacBook Pro supports it?
Big Sur is the latest and the most advanced desktop operating system available for your MacBooks and iMacs. It is the biggest and the most beautiful design upgrade since the introduction of the Mac OSx in the mid 80's. This redesign is entirely new but yet instantly familiar. The new requirement for the OS11 has jumped by a year on most models, compared to the Mojave and Catalina upgrade which had the same hardware requirement. The MacBook Pro and MacBook Air models is now jumping from the 2012 to 2013 models.
This new upgrade has been engineered to take full advantage of the new Processor Apple unveiled this fall, the M1 chip. The 2020 MacBook Air, MacBook Pro and Mac Mini have taken full advantage of this boost in performance from this new processor.
Which Macs can run the latest Big Sur upgrade?
iMac (from 2014)
iMac Pro (from 2017)
MacBook (from 2015)
MacBook Air (from 2013)
MacBook Pro (from late 2013)
Mac mini (from 2014)
Mac Pro (from 2013)
What Mac do I have?
To find out what year your Mac has been released or what OS X you are running on your system, go to the Apple on the upper left corner of your home screen and click on "About this Mac". If you are running OSX 10.7 through 10.10 you will have to click "More info".
You can find more information on all Big Sur updates and feature by clicking here>>
Latest Apple MacBook Air (2020) is here
The MacBook air is usually the entry level product, where most people get their first impression of the Apple product line. Apple Laptops have a strong reputation for quality and a very good candidate if you plan on keeping it for five years or more. As we currently look at what Apple is offering on their website, the base line model is about $100.00 cheaper than its predecessor. It start at $999.00 with the Apple M1 Chip with 8-Core CPU and 256GB SSD storage, while the second option at $1,299.00 has also the M1 Chip with 8-Core CPU with 512GB SSD storage capacity.
From the outside, the only major change in the design is the new Magic Keyboard that Apple started using with the 16-inch MacBook Pro in 2019. While the keyboard steals the spotlight, let's not forget the large trackpad that Apple is famous for with a touch click that is virtually silent and a tracking that is second to none.
The MacBook Air comes in Gold, Silver and Space Grey (My favorite color).
The MacBook Air has never been a powerful laptop by all stretch of the imagination. It's designed more for portability and basic functionality, Perfect for school work and Emails. In this latest version, battery life has also been improved by more than 6 hours giving you a total of 18 hours of productivity without recharging.
The MacBook Air is a good choice for Apple Fans on a budget. It's a great entry level Laptop especially after a price reduction, Great keyboard and double the hard drive storage (Starting at 256GB).
For more information on this product check out the MacBook Air product page >>
New iMac 27-inch is More Powerful than Ever
The iMac 27-inch has been the product name for Apple's high end All-in-one desktop since the transition to the Intel processor began in early 2006.
The latest 27-inch iMac is however by far the most powerful All-in-one desktop Apple has ever made. With an immersive 5K True Tone technology Retina display with a Nano texture glass, Intel i9 10th generation with up to 10-core processor 5GHz Turbo boost, 128GB 2666MHz DDR6 memory, and up to 8TB lightning fast Solid State storage, it is the ultimate All-in-one desktop for the ultimate user.
27-inch True Tone retina display
the largest Retina display on an All-in one iMac using for the first time "True Tone technology" for a more natural viewing experience with its one billion colors and 500 nits of brightness. Photo and graphics leaps of the screen.
Intel Core i9 processor
with up to 10 cores of processing power it delivers 40% more performance of a previous generation 8-core iMac.
Up to 128GB of DDR6 266MHz memory
for smooth performance and efficient multitasking
AMD Radeon Pro 5000 series graphic
Two times faster than previous generation and with the optional 16GB of GDDR6 VRAM for graphics- intensive workflow, you'll get up to 6x faster performance than with 8GB.
Up to 8TB Solid State hard drive storage
Super-fast storage and massive file load.
This 27-inch iMac is the desktop that does it all – better and faster than even, it is definitely a game changer. See the product page for more details.
New redesigned Mac Pro 
Since 2013, Apple has let the old Mac Pro design completely stagnant. It was small and beautiful and run whisper quiet (nothing short a piece of art that demanded placement on your desk) but the tight integration made it almost impossible to upgrade.
According to Apple the new Mac Pro has been redesigned with easy access to components and a stainless steel / aluminum case that includes handles for modularity. This new design also include optional wheels ($400.00) that can be added to make it easy to transport from one location to the other.
With a price tag starting around $6.000 (display sold separately), this machine is unquestionably designed for the professionals who demand the absolute best performance money can buy. The Apple XDR display is available for purchase separately with a Price tag around $5.000 (base not included). With full upgrade and top of the line specification the high end Mac Pro could cost you upwards of $40.000.
Mac Pro Specs
Intel Xeon processor with up to 28 cores
12 DIMM slots for up to 1.5 terabytes of 2933MHz ECC memory
8 X PCI expansion slots, four double-wide slots, three single side slots
2 X TB3 ports, audio jack, two USB A ports, two 10Gb Ethernet ports
300 watts of power, runs fully unconstrained
Apple also built a brand new card called Afterburner for video editing, 6 billion pixels per second. 3 streams of 8K, 12 streams of 4K. The new Mac Pro is being manufactured in the same facility where the old Mac Pro was manufactured in Austin Texas.
Is your Mac supported with the latest macOS Catalina?
Catalina macOS (10.15) is the next version of Mac operating system available for download for free this October.
The good news is that if you are already running macOS Mojave on your machine you are probably going to be able to install Catalina without any problems. Unfortunately if your system came out prior to 2012, you are out of luck and are not going to be able to upgrade it.
To find out how old your mac is, go to the "Apple" menu on the upper left of your desktop and click on "About this mac". All the information needed to determine if your mac is compatible should be displayed under the "Overview" Tab.
The system requirement for Catalina are very similar to last year macOS Mojave.
Catalina macOS 10.15 can run on the following systems.
MacBook (2015 or newer)
MacBook Air (2012 or newer)
MacBook Pro (2012 or newer)
Mac mini (2012 or newer)
IMac (2012 or newer)
IMac Pro (from 2017)
Mac Pro (2013 or newer)
If you compare the system requirement for Mojave or Catalina to its 2017 predecessor, you will find that macOS High Sierra, was less processor intensive and could run on older systems going back to 2009 macOS 10.5 Leopard.
It is understandable that Apple cannot support its hardware forever. The newest feature and app need better, more powerful processor and Memory and the older a machine is, the less powerful it tends to be.
919