PC & Laptop repair in Richmond, VA

On-Site PC & Laptop repair for your home or Business in Richmond, VA
Why drag your computer to the shop to wait for days to get it back? 
Instead, you could have a technician perform the work in your own house, in front of you. Our certified technicians come to you to solve your computer troubles at your convenience. Call or text us to schedule an appointment. We offer same day service in most cases.
We fix all brands and models
Desktop computer repair
Laptop computer repair
Hardware replacement

Hard Drives SATA/SSD/SSHD
Power supplies
CPU / Heat Sink /Fans
Video cards
Keyboards
Ethernet / Wireless cards
Memory Modules

Software repair

Windows OS / MAC OSx
Microsoft Office
Outlook / Mac Mail
QuickBooks /Sage PeachTree
.and many more, call for more details.
Full service Mac & PC repair
We offers computer repair, networking and IT services for your home or business.
Whether you need a Laptop repair, Mac repair or PC repair, our certified technicians have the resources and technical expertise to overcome any IT challenges that you may have.
We work on all Brands and models 
We fix Apple IMACs, MacBooks Pro, MacBook Air, Laptop, Desktops and all Windows operating platforms. We work on Dell, Sony, IBM, HP, Gateway, Acer, Asus, Toshiba, E-machine, Lenovo, Fujitsu, Compaq.
fully certified technicians
We have more than twenty years experience in the computer industry. We are A+, Network+, Apple Certified and Microsoft certified systems engineers.
Warranty
We have one of the best warranty in our industry in Richmond VA, we stay behind our work for a
full 30 days. View our policy   More>>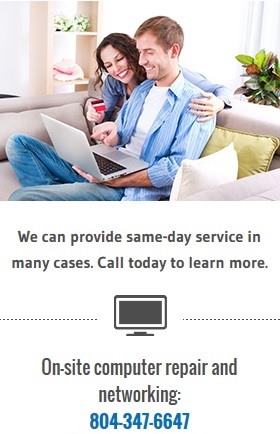 Are you ready to get started ?
Call or text 804-347-6647 to schedule your repair TODAY!